Thanks for visiting ChimpKey!
What is ChimpKey?
ChimpKey allows you to post your PDF invoices & bills to Quickbooks without hand-keying them. Its as simple as downloading the free version of the ChimpKey app and then you can post your Action Garage Door bills immediately. Here's a quick tour:
How do I post my Action Garage Door Bill to Quickbooks?
STEP 1: Download & install the FREE app by clicking download here: DOWNLOAD

STEP 2: View your AGD Bill, you'll see the ChimpKey menu in Adobe Reader.
 
STEP 3: Post your AGD Construction Bill to Quickbooks in seconds!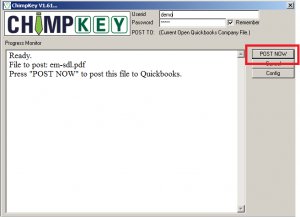 If you have any questions, don't hesitate to give us a call at 888-373-1365, We're here to help!